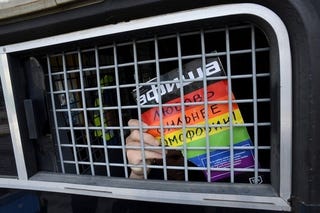 Alerted by the lovely Facebook account of the inimitable Pandora Boxx, I've been increasingly troubled today by the state of LGBTQ rights in Russia. In June, the Russian Duma (their lower parliamentary house) unanimously voted in favour of new legislation criminalising the distribution of "homosexual propaganda" to minors, and the measure was signed into law by President (and anthropomorphic meerkat) Vladimir Putin on June 30th. The law imposes heavy fines on any individual found to be distributing information about LGBTQ identities, running support groups for LGBTQ youth, or teaching tolerance and acceptance for non-heterosexual identities to children. Seen as an attempt to gain political favour amongst Russia's deeply-conservative society, backers of the law have hailed it as a step towards protecting "traditional" Russian values, while gay-rights activists have condemned the measure as promoting ignorance and violating civil rights of freedom of expression and assembly.
The first individuals to be arrested under the new law were four Dutch tourists who travelled to Murmansk with the intentions of making a documentary of the young LGBTQ community in the northwestern port city. While hosting a seminar with LGBTQ group Centre Maximum on Sunday, police broke up the meeting and arrested Kris van der Veen, the President of LGBT Groningen, a prominent Dutch gay-rights organisation, along with a sound technician, camerawoman, and a female student. Although the authorities found no minors at the meeting, footage on their camera revealed that they had interviewed a 17 year old boy earlier in their trip, and thus were in violation of the "propaganda" law. The four tourists were released without charge after eight hours of questioning, but were fined ~$100 each for violating their visa terms, and could have faced a jail term of 14 days if found guilty. The Russian Government has already affirmed that it will arrest and prosecute foreign tourists who violate the law, and after this incident LGBTQ travellers will have to think twice before entering the former Soviet state.
The "gay propaganda" law is the latest blow for gay rights in Russia, and follows after a string of incidents that have put Russian homophobia into the spotlight. On May 29th, a 39 year-old airport director from the northeastern peninsula of Kamchatka was brutally beaten and killed by three young men for being gay, just weeks after a 23-year-old man was murdered in the city of Volgograd for his homosexuality. In August of last year, the city of Moscow banned LGBTQ Pride parades for 100 years in an attempt to marginalise the gay community - a previous 3-year ban was declared a civil rights violation by the European Court of Human Rights in 2010, but Russia has continued to flout international anti-discrimination law in the years since. On July 3rd. 2013, Putin signed a law banning the adoption of Russian children by homosexual couples, or would-be parents in any foreign nation where marriage equality exists, and according to the New York Times, plans have been set in motion to pass a bill that would allow authorities to remove children from homes where one or both parents are suspected to be homosexual.
Why has Putin's government waged such a forceful and hateful campaign against the LGBTQ community? Supporters of the recent legislation claim that the measures protect children from abuse (despite 90% of pedophiles being heterosexual men), protect the institution of marriage from erosion (although long-term gay couples report equal or greater comittment and satisfaction to hetero couples), and enforce traditional Russian conservatism. Critics of the laws have, rightly, labeled the measures as scapegoating a disadvantaged community for political gain, the further oppression of the oppressed in service of social unity. In a powerful op-ed published this week, Broadway legend Harvey Fierstein issued a warning about what these policies might lead to, calling for human rights advocates around the world to sit up and take note of the Russian crusade against LGBTQ rights:
Mr. Putin's campaign against lesbian, gay and bisexual people is one of distraction, a strategy of demonizing a minority for political gain taken straight from the Nazi playbook. Can we allow this war against human rights to go unanswered? Although Mr. Putin may think he can control his creation, history proves he cannot: his condemnations are permission to commit violence against gays and lesbians. Last week a young gay man was murdered in the city of Volgograd. He was beaten, his body violated with beer bottles, his clothing set on fire, his head crushed with a rock. This is most likely just the beginning.
With the 2014 Winter Olympics set to be hosted in the west-Russian city of Sochi this coming February, we must ask ourselves the serious question of how much intolerance we can accept. Gay and lesbian athletes, coaches, workers, and tourists travelling to the Games can and will be detained under the slightest suspicion of being homosexual, and allowing a country with a homophobic past and present host an international event that dedicated to fostering international goodwill, equal participation, and non-descrimination only gives credibility to their warped ideals. We saw significant protests in Beijing against China's human rights violations, and I can only hope that the international community steps up and takes a firm stance against Russia's homophobic policies, both for the good of the oppressed LGBTQ community in Russia, and to further advance the ideal that one's sexuality has no bearing on one's value as a human being.